Safety is at the core of VSCO. Ensuring that our community is safe is our top priority. For that reason, we have built ways to report inappropriate content you may encounter on the VSCO app or site.
Our Community Guidelines explicitly prohibit content that contains violence or threats, nudity or sexually explicit imagery, bullying and harassment, promotion of self-harm or suicide, or private information. We have policies in place to combat other abuse types such as hateful conduct, spam or phishing, impersonation, intellectual property violations, and illegal conduct.
Please note the images used in the examples below are not considered in violation of VSCO's Terms of Use and are for demonstration purposes only.
Reporting an image on the VSCO app
Please note that you should only report an image that you believe violates VSCO's Terms of Use.
Tap on the Explore icon

, Discover icon

, or visit a VSCO Profile.
If you need to search for the image or the VSCO Profile that has an image to report, tap on the Discover icon

and then the Search icon

You can search for images using the People, Images, or Journal categories.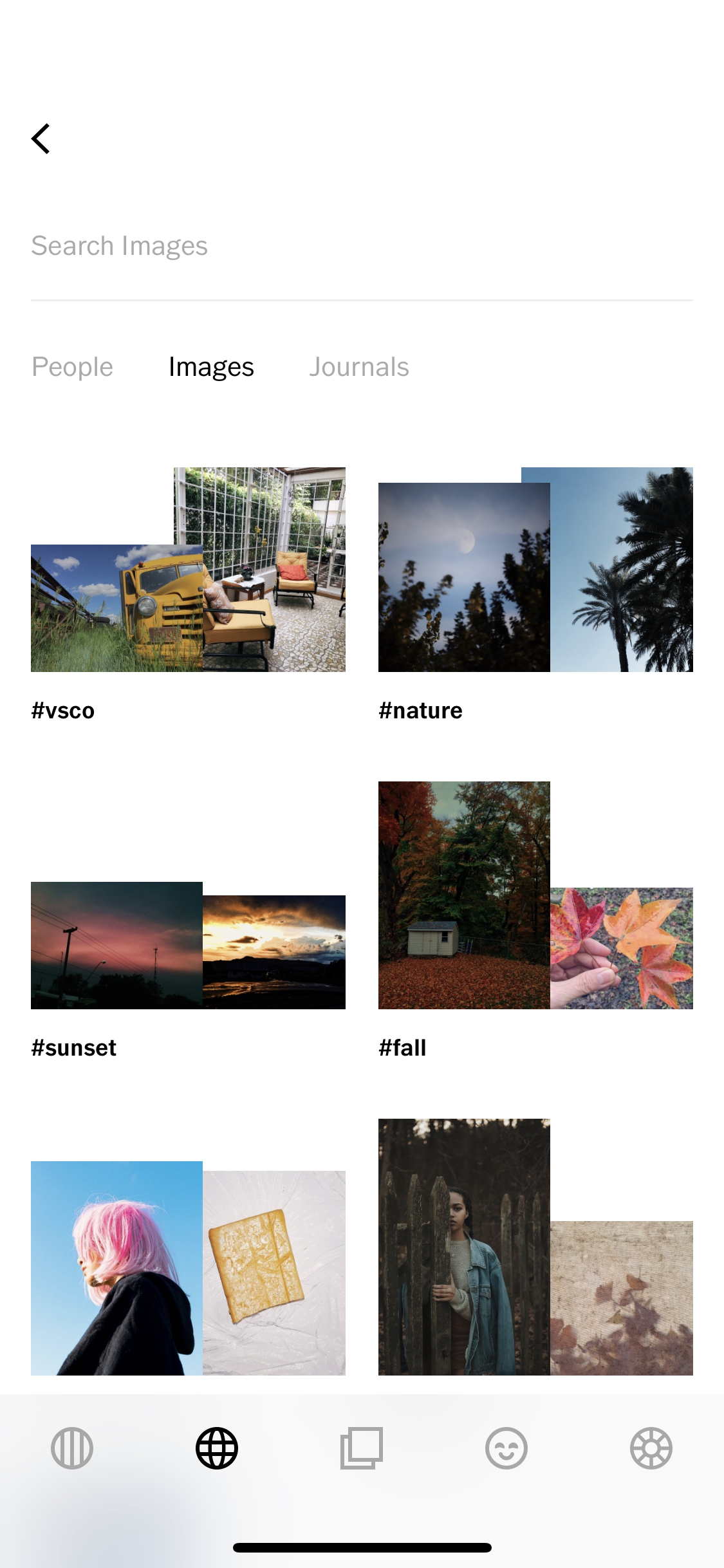 Tap on the image that is inappropriate, tap on the Options icon

in the top right corner of the screen, tap on Report Image and tap on the reason you want to report the image.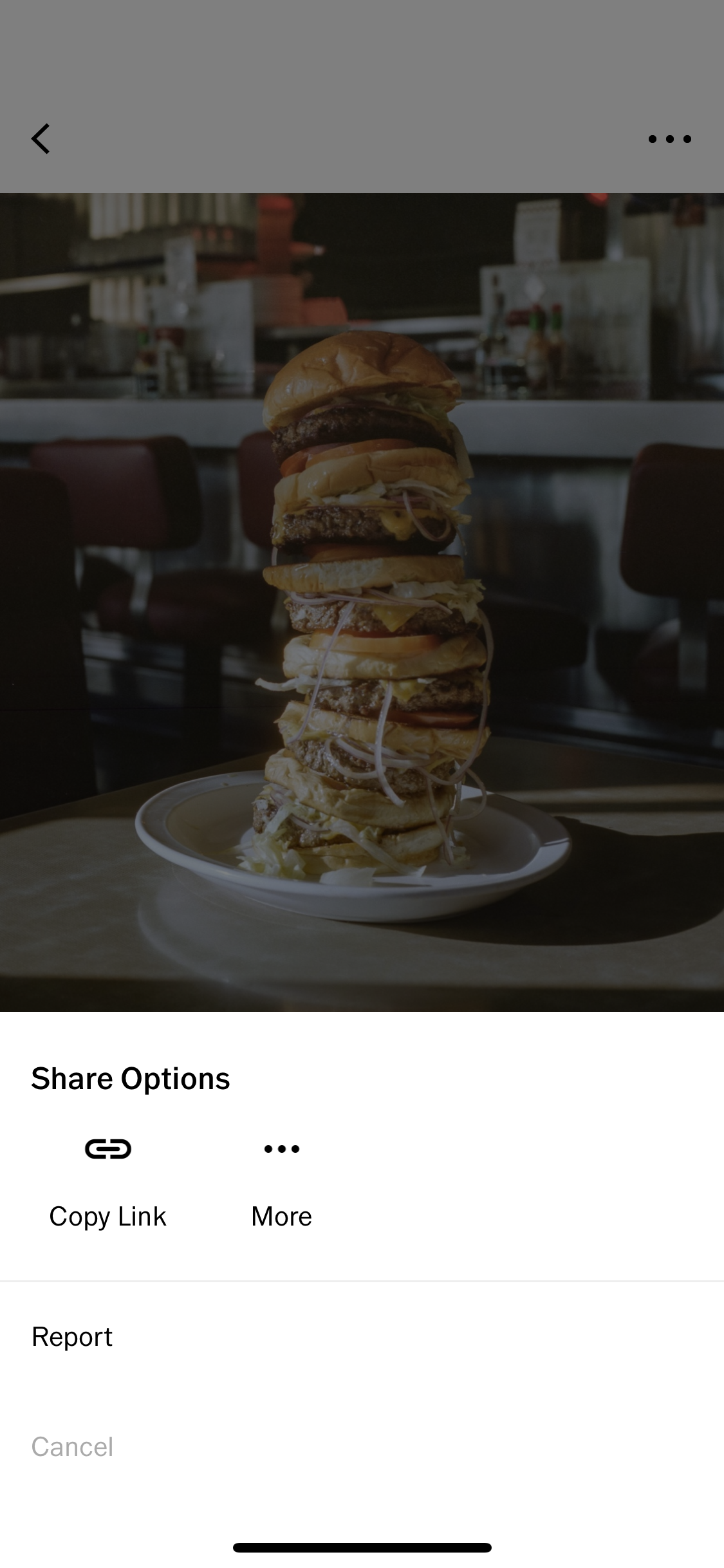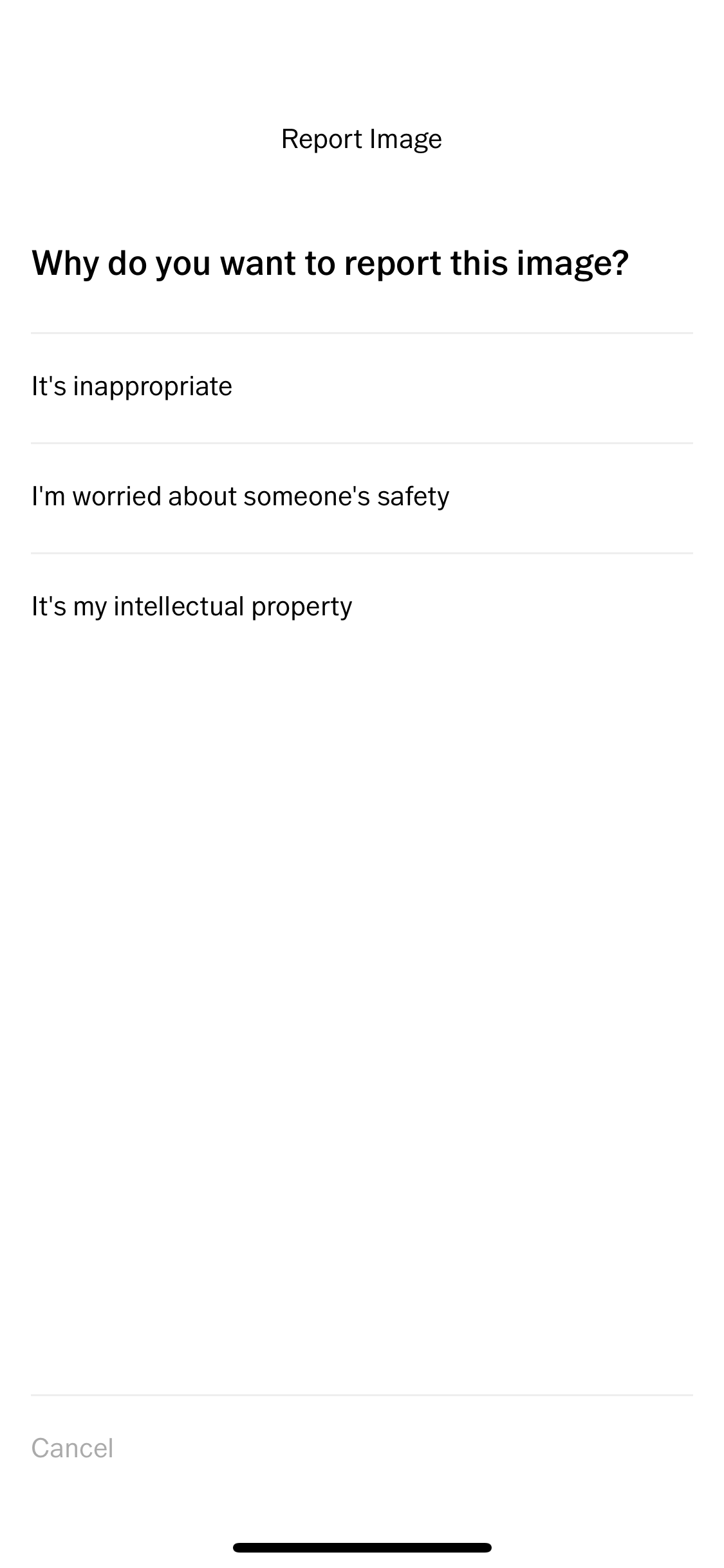 Reporting an image in a web browser
Visit http://vsco.co in your browser.
To report any inappropriate image on VSCO, click on the image, scroll to the bottom of the page, click or tap on the Options icon

in the far right corner and then click on 'Report Image'.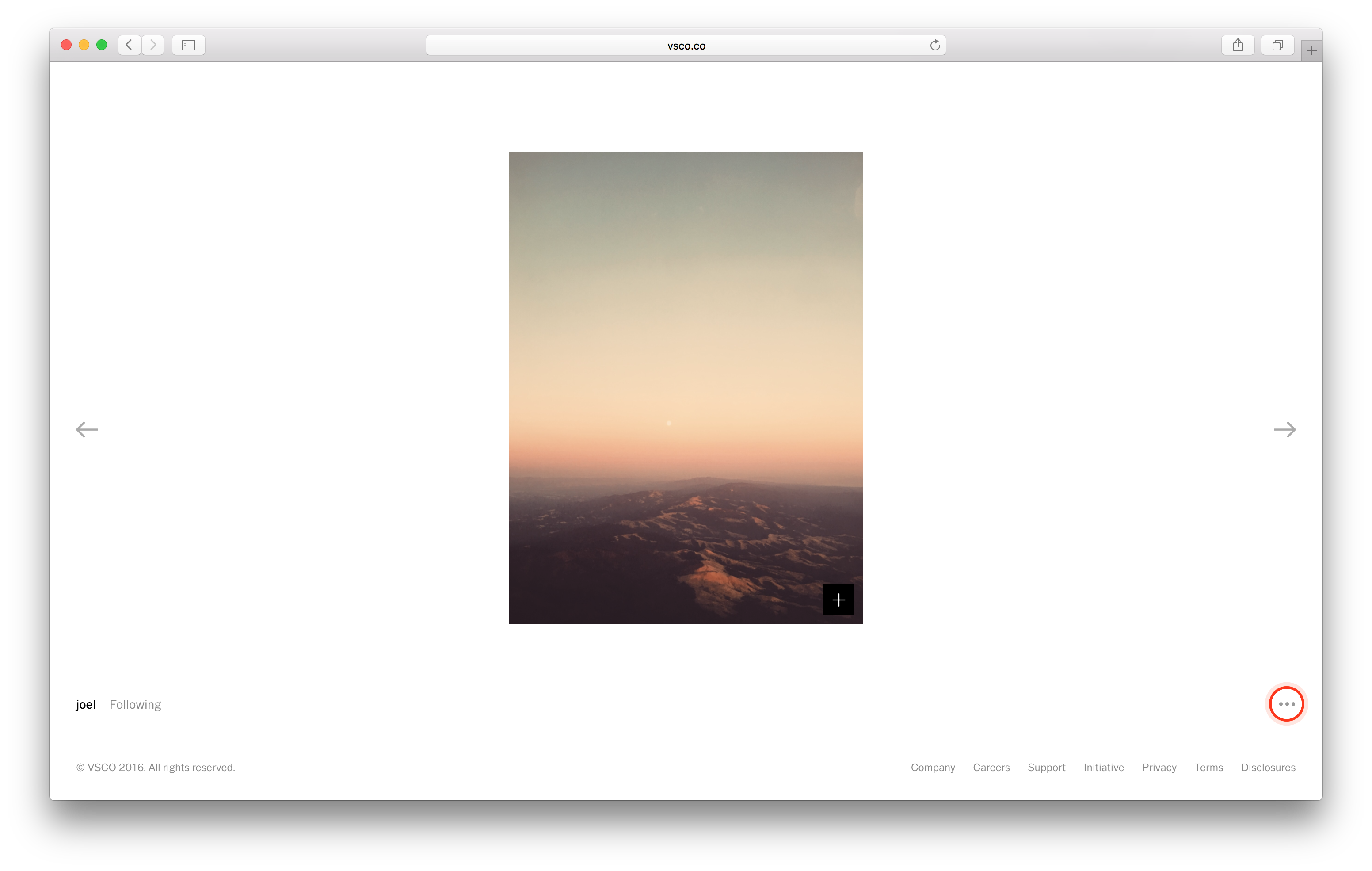 Click or tap the reason you want to report the image.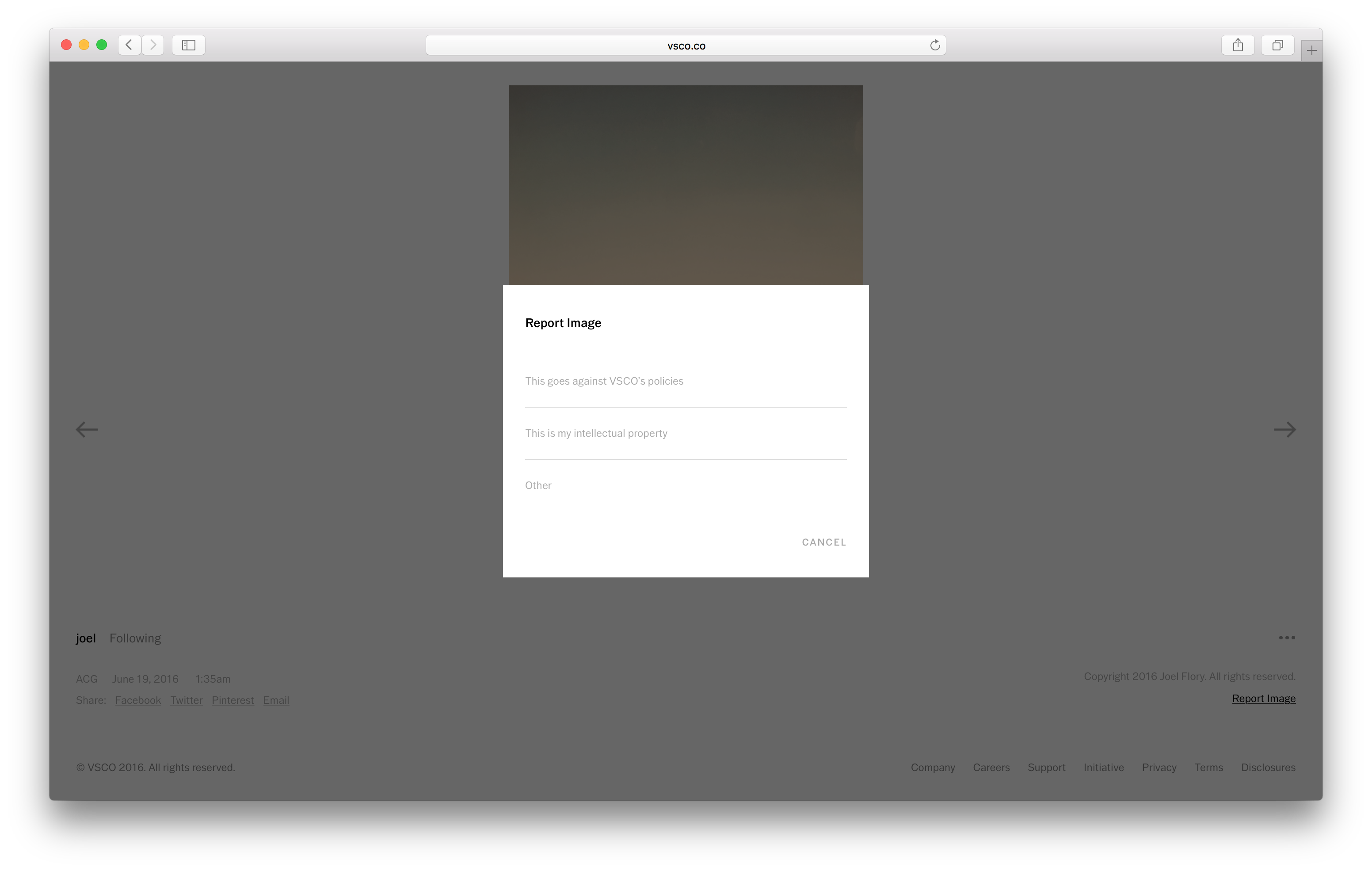 Intellectual Property / DMCA
If you are reporting an intellectual copyright violation, please select 'This is my intellectual property' which will link you to our DMCA form: http://vsco.co/about/contact/copyright
Email us
Sometimes you may have a report that requires a little more context than just reporting the image or profile alone. If you wish to submit a more detailed report via email please visit our Help Center and contact us via the chatbox.
What should I expect after I report content?
Our Trust & Safety team's mission is to provide a safe space for all our creators. After you report content to us, our team will review the report to determine if our violations have been violated. There's a number of actions we can take on content in breach of our policies: we can suspend users temporarily or permanently or ask them to remove specific media to comply with our Community Guidelines. Please bear in mind that to prevent abuse of our reporting mechanisms, reporting content does not immediately mean that the creator who posted it will be removed from our platform. We will conduct a thorough investigation and determine an appropriate course of action to ensure the safety of our community.