You could access the VSCO Studio by tapping here.

Get started on your creative journey.
This quick guide will give you a brief description of all the elements in the photo & video editor. Click the links to learn more information.
Tabs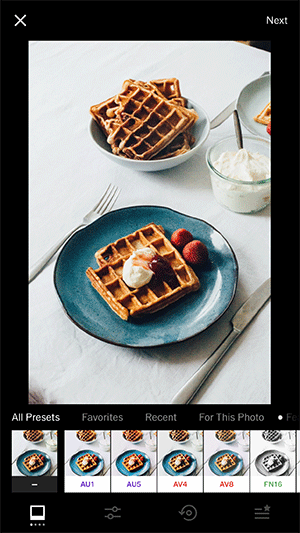 Presets - Choose from a wide selection of pre-made looks.

Tools - Adjust specific elements of your images and videos.

Recipes - Save a set of edits for future use. Edit history and undo also live here.

Organize - Rearrange presets, tools and recipes to suit your workflow.
Tools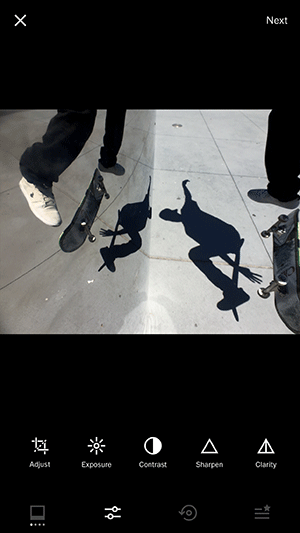 Adjust - Correct geometry with straighten, crop, and skew.

Trim (video only) - adjust the start and end points of the video to remove parts that aren't needed.
Volume (video only) - adjust the volume of the audio attached to the video

Exposure - Brighten or darken all the tones.

Contrast - Increase or decrease the difference between highlight and shadow tones.

Sharpen - Adjust fine details.

Clarity (photos only)- Adjust large details.

Saturation - Adjust the strength of all colors at once.

Tone - Adjust highlights and shadows.

White Balance - Adjust color warmth.

Skin Tone - Ajdust the color of skin.

Vignette - Darken the edges to bring focus to the middle.

Grain (photos only) - Add an analog noise texture.

Fade - Add a washed-out look.

Split Tone - Add a color to highlights and shadows.

Borders - Add a frame.

HSL - Adjust specific colors.

Dodge & Burn - Decrease light and increase exposure.

Remove - Remove objects and areas.
Tips & Tricks
- Press & hold on the main image at any time to preview its original state.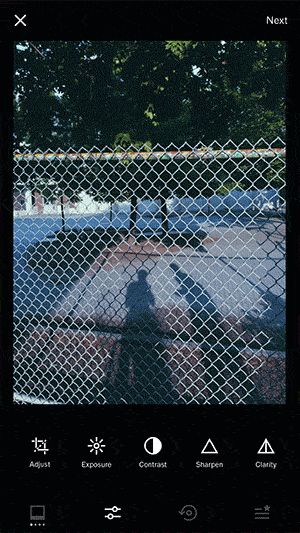 -Change preset views by tapping the preset icon

to see larger thumbnails.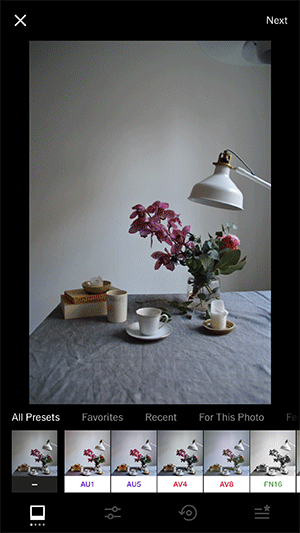 If you aren't already a VSCO Member, we invite you to join our community and try out a free 7 day trial of the VSCO Membership.