You could access the VSCO Studio by tapping here.
Streamline your creativity with presets.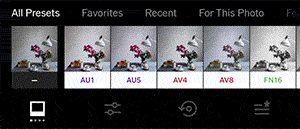 Presets are pre-packaged looks that enable you to apply nuanced color corrections to you images and videos with ease. They are custom made by VSCO, and they cannot be fully replicated with the VSCO tools.
Presets have short names like "A1" to help you remember which ones you like. Tap on a preset to see its effect applied to your image. Tap a preset again to see its full name and adjust its strength.
There are two main types of presets:

Film X

Standard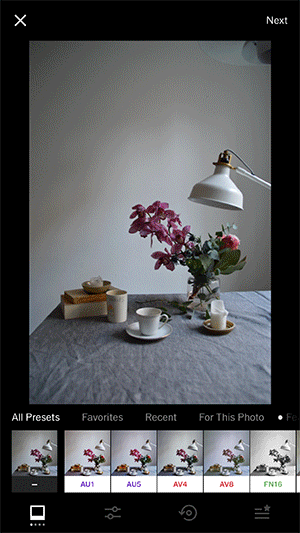 The Film X presets appear first in the tray, and you'll know them by their white background and colored names. These presets are advanced physical models of real films, and they have 2 extra controls when you tap into their options. Character

models the changes that occur from over and under exposing film. Warmth

models the adjustments made to color balance film in a scanner.
Standard presets have colored labels with white letters, and these are custom looks built by VSCO that can give your image a variety of moods.
To learn more about each preset, visit the Preset Guide.
Organizing Presets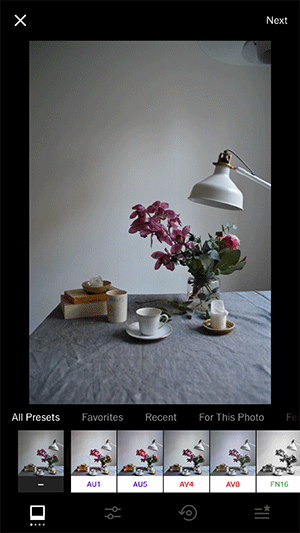 To favorite a preset, press and hold on it and then slide up to select the star

. From the Organize tab in the Editor you can also favorite presets by selecting the star

next to them. Favorite presets can be isolated with the Favorites category above the preset list.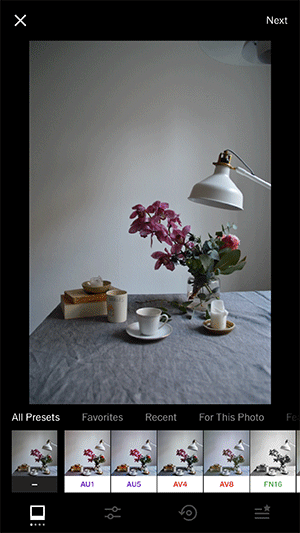 Beyond Favorites are several other preset categories. Recent shows you your most recently used presets. For This Photo uses on-device machine learning to recognize the image type and suggest presets for it. Featured presets are highlighted by VSCO on a regular basis, and the rest are categories by look and subject.
Viewing Presets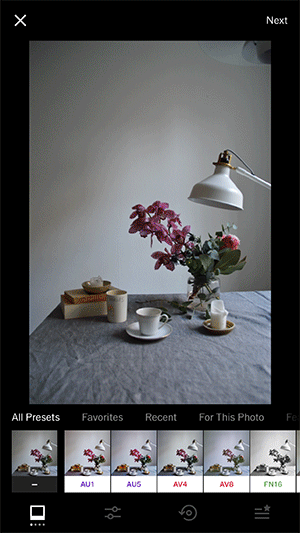 To see all the presets applied to your image in a larger view, tap the preset icon

on the bottom left to see grid view options. These modes can make it easier to choose a preset with a larger thumbnail and a scrolling interface. Tapping a preset brings up it's detail view with its full name and strength control. Tapping the check mark

will apply the preset, tapping the X will return you to the preset grid view.
Choosing Presets
Choosing presets is a very enjoyable experience for many, but it can be overwhelming at first with so many options to choose from. The category tabs in the preset view can help you narrow down the list and discover preset types. Additionally, the L, U, G, and AL presets are built for landscapes, urban settings, portraits, and artificial lighting, respectively, so these might be a good starting point if you're working with those types of images.
However, there are no rules, so just find what you like, add it to your favorites, and get creative.
If you aren't already a VSCO Member, we invite you to join our community and try out a free 7 day trial of the VSCO Membership.