Introducing the new VSCO Studio. VSCO Studio has been redesigned to consolidate your best drafts from the past and present in your workspace.
Now you can add photos/video directly from your camera roll as drafts and start working on your projects inside the new VSCO Studio.
How to Use the New Studio-
Launch the VSCO app.

Tap on the "+" Studio icon to launch the Studio section.

Tap on the "+" icon (top-center) to add photo(s)/video(s) to the Studio.

Tap on any photo(s)/video(s) to select, then tap Import.

Tap on any content inside the Studio to start editing.
Content imported into VSCO Studio does not create copies in the VSCO app. Instead, imported photos and videos create drafts from your camera roll. If the original content is deleted from your camera roll, the draft versions inside your Studio will also be deleted.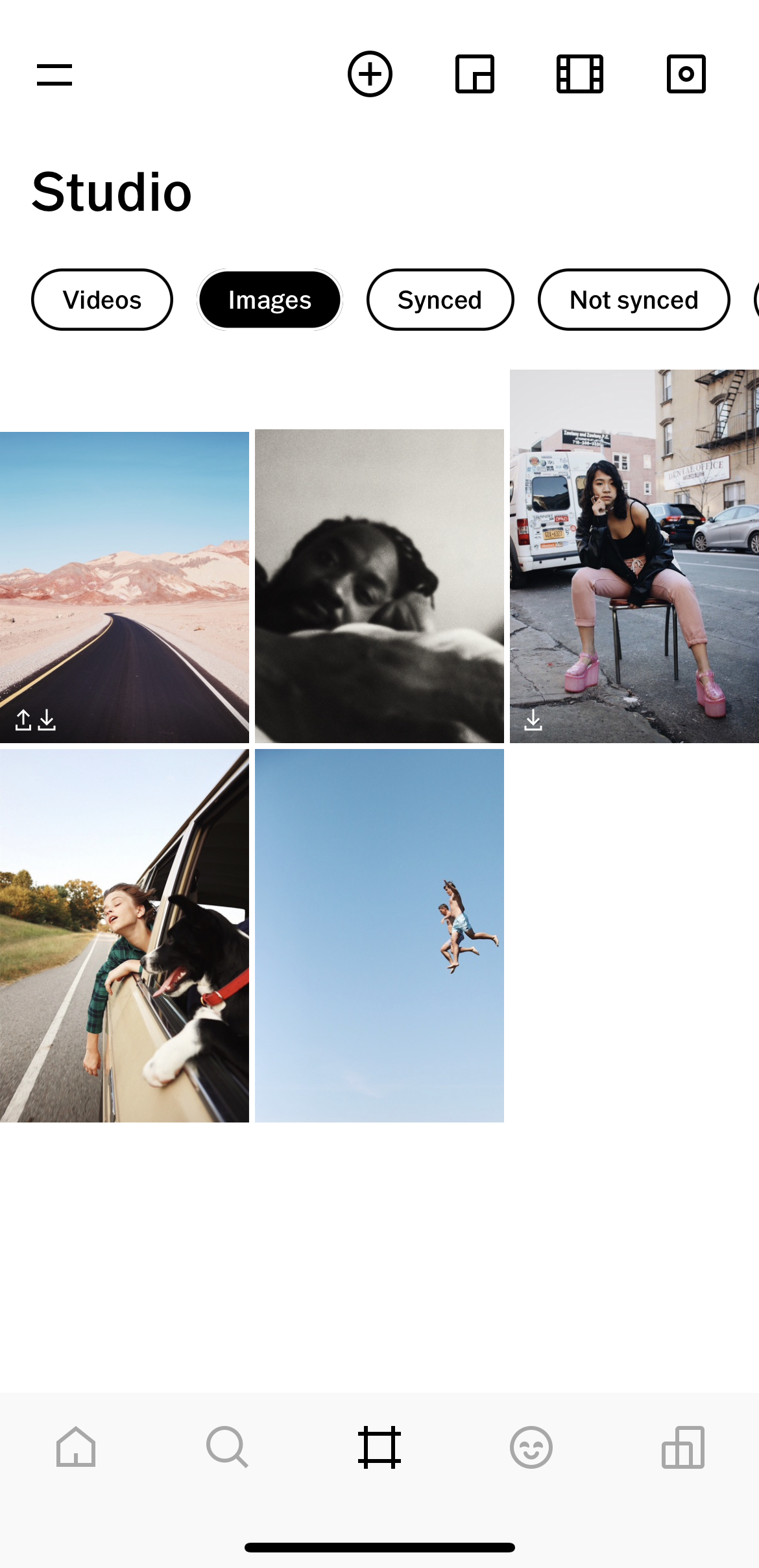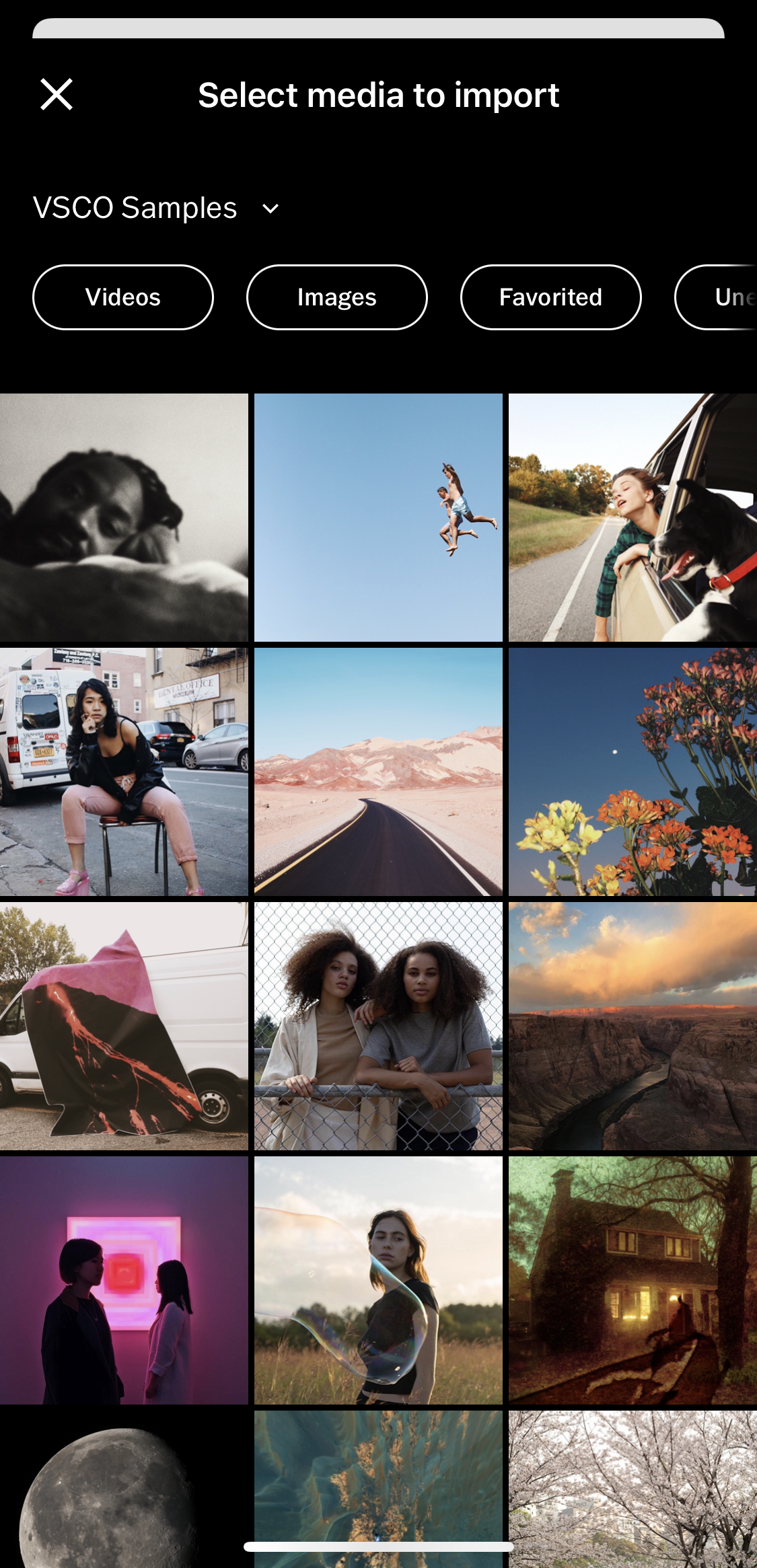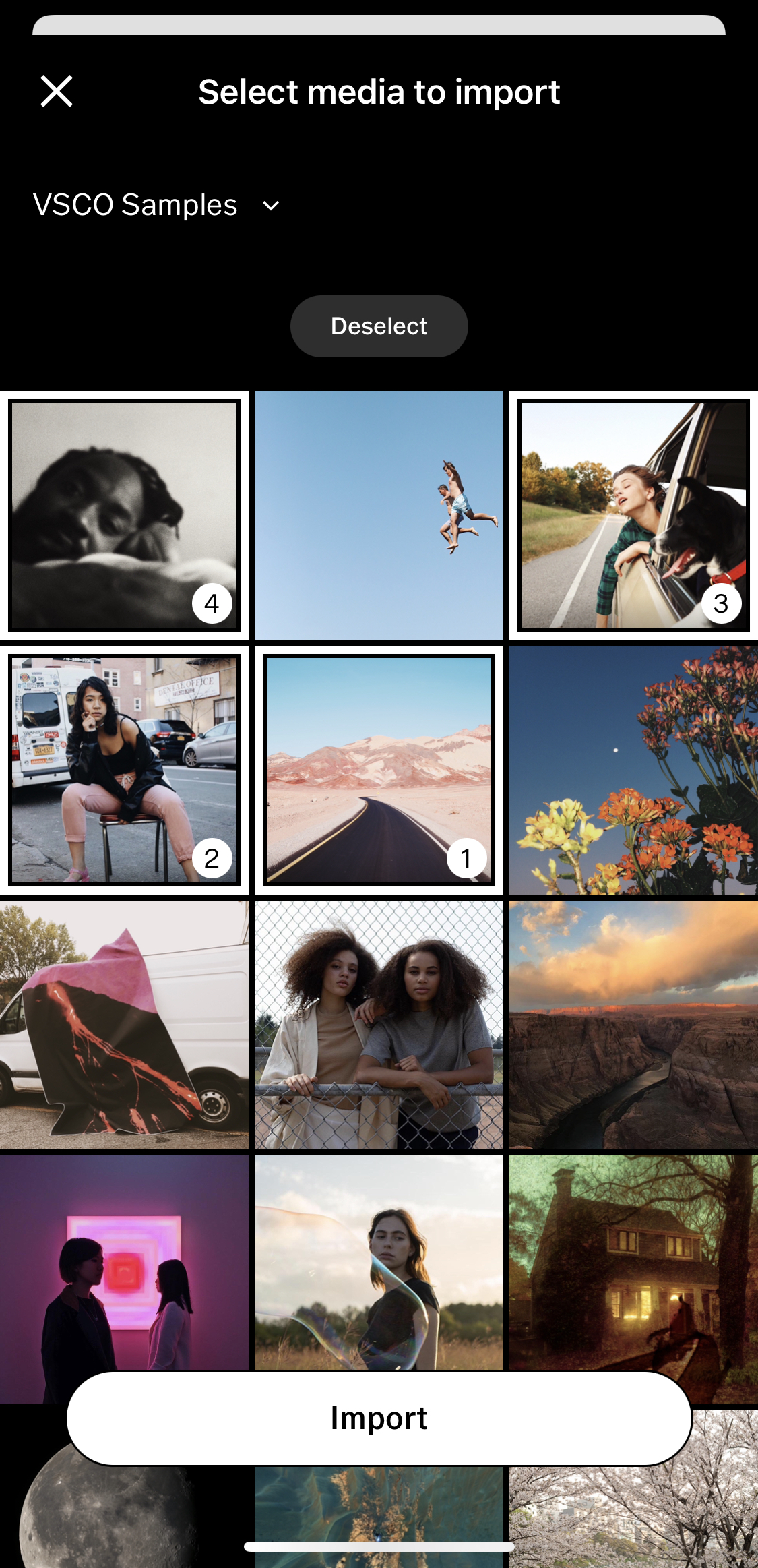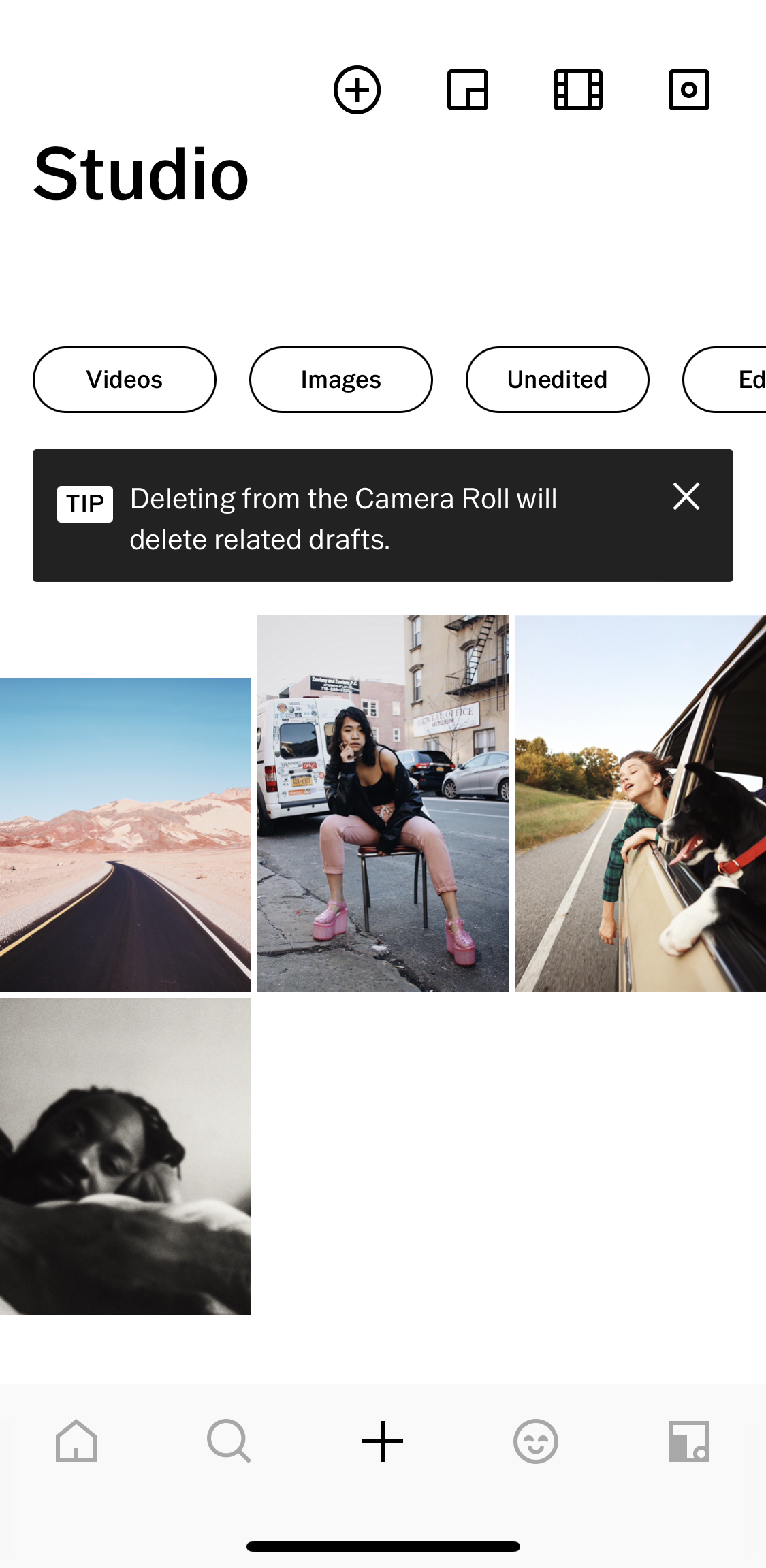 Video: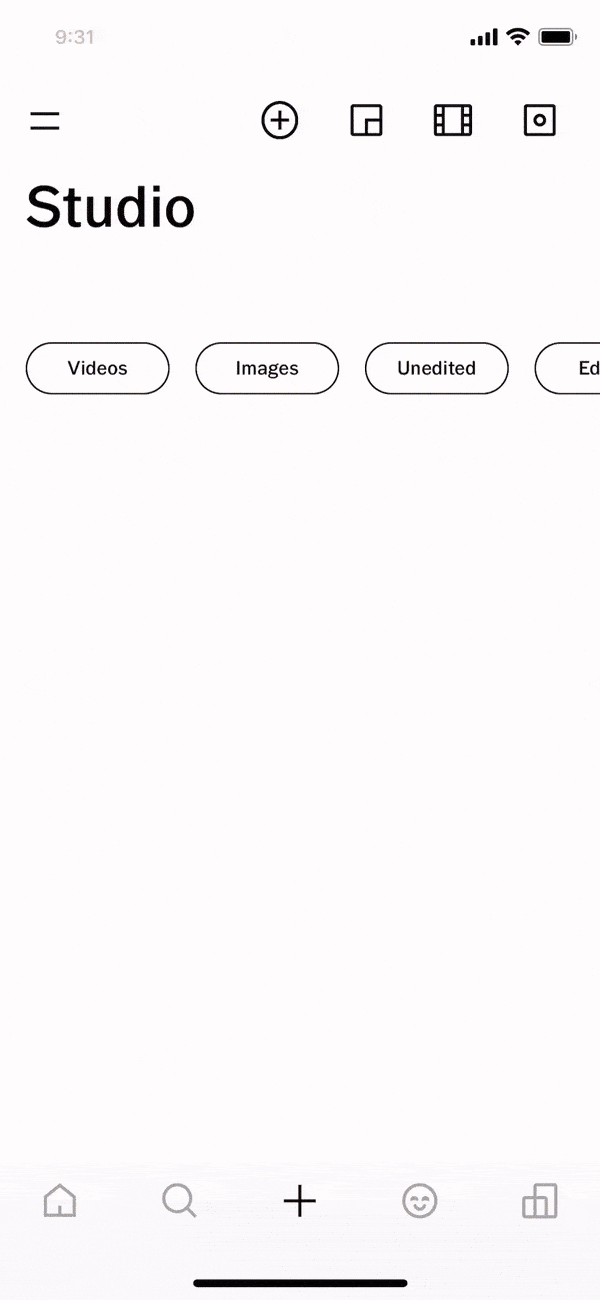 FAQ:
Studio
Q: Why can't I see my pictures anymore? Where's the camera roll?
A: The camera roll is still nearby in the '+' button at the top of the Studio. Tapping this opens a media selector with full access to your camera roll. Choose the images or videos you want to work on and tap "Continue" to create drafts in the Studio to edit in the usual way.
Q: I don't like the drafts-only Studio; now I have to create a draft every time I want to edit. Why did you do this to me?

A: We want VSCO to be an inspiring, creative, and focused workspace for you. Most people's camera rolls are a cluttered space full of all the mess of life, and it's far from an inspiring place to start a creative process. As you create drafts of your favorite works that you want to edit, over time, the Studio becomes a beautiful collection of your best work. While this approach makes quick edits a bit slower than before, we hope the longer-term benefit is a VSCO Studio that elevates you as a creator.
Q: I exported an image or video but I don't see it in my studio. Where did it go?
A: Exported files go to the camera roll, and they do not automatically create drafts in VSCO since we assume that you're no longer wanting to work on a finished export. If you do, simply create a new draft with the exported file and edit as usual.

Q: I imported an image into VSCO and deleted it in my camera roll to save memory. But now it's gone! What happened?

A: When you create a draft in VSCO, the image or video is not copied into VSCO in any way. Rather, VSCO creates a record of your work on that piece of media in the form of a draft that lives in the Studio. The good news is that you can recover anything deleted in your camera roll for 30 days by opening the albums tab and scrolling all the way down to the bottom to the "Recently Deleted" album. From there, you can recover deleted media.

Q: I got a new phone, or deleted and reinstalled VSCO and all my drafts are gone! What happened?

A: At this time, drafts in VSCO are not retrievable except by backing up and then restoring your device. Your original media is always safe in the camera roll, but VSCO drafts (as in your editing decisions on that media) are not. It's a problem we're aware of and working on!

In the meantime, please refer to this support article for how to create a backup of your phone to avoid losing VSCO drafts.